Hi! I am Jonah Carrio Andersson, a Filipina-Swedish Software Engineer, Microsoft Azure MVP, a Tech Community Leader (ULAP.org, Azure UG Sundsvall Sweden) and certified Microsoft Azure Developer living and currently working in Sweden. I was born and raised in the Philippines. My journey to becoming a software engineer and cloud developer was a long, challenging yet inspiring tech story. A story that I am not ashamed to share because of the hope to inspire others, especially other young women in tech.
MY STORY AND CHILDHOOD DREAM
I lived and grew up in Dumaguete City, also known as the "City of Gentle People" in the Philippines. I grew up near the ocean and had a simple life along with my family. I was the eldest child in the family and was a very reserved yet responsible and independent child.
When I was a young girl, I watched a story about the amazon women documentary in South America. They were known to be fierce female warriors and admired the characteristics of those women – different, brave and strong! Like what I saw on the television, I wanted to be as strong as them. On the contrary, I was shy and scared as a young girl. I was bullied by my classmates when I was in grade school. I had these feeling of "inferiority complex" that I was not as good as others. Because of this childhood challenge, my mother used to encourage me to face that fear.
My dream was to become a brave and strong woman civil engineer. Back then, I thought that being a civil engineer was a very different and challenging career path to take. This is partly because this profession was known to be a men-dominated job. In addition, I liked drawing and the idea of building something useful through engineering. That dream job didn't happen because of life circumstances and economic reasons.
SCHOLARSHIP AND COMPUTER SCIENCE DEGREE
Unlike the other countries, having a college education is not free in the Philippines. My parents could not afford to send me to a school that offers civil engineering courses, so I took the initiative of taking a government scholarship that was offered in my high school. I passed the examination and got the full scholarship grant. I finished my Computer Science degree in 2004 at a private university called the Asian College of Science and Technology in Dumaguete.

BEING STRONG OVER LIFE'S CHALLENGES
The year 2004 was the toughest year of my life when my mom (she is also my best friend) died from stage IV breast cancer. After this sad incident, my siblings and I got separated from our father. It was indeed tough for us not having a good relationship with our father, but we have forgiven him 😊
I was 18 years old, and I started taking responsibility as the breadwinner of the entire family. Instead of finding a job within the programming field, I took the first job as technical support at TTech, an international BPO company. It was the first and the best job that I could have back then to earn a living. I supported my younger siblings with their everyday needs and made sure they have proper education.
MOVING FROM THE PHILIPPINES TO SWEDEN
When I moved from the Philippines to Sweden about 10 years ago, I decided to pursue my passion and dream to work in the engineering field. I chose to focus on becoming better in software development. It took me 3 years to learn and up-skill in programming languages such as C# and Java before I got my full-time job offer as a full-stack software developer in Sweden.
My childhood dream was to become a civil engineer. It fascinated me because it is about creating amazing physical designs and infrastructures. I still believed that I was able to work up to reach my goals. I may not be building great physical buildings but I am creating, developing and maintaining useful IT systems and infrastructures through the Microsoft Azure cloud platform. I didn't regret the career path I took.
ADVOCATING FOR TECH AND GENDER DIVERSITY
Starting my first full-time job as a software engineer in Sweden was another long journey. Being a professional worker in the Philippines, you don't notice the gender diversity problem with my role as IT support. However, working as a software engineer in Sweden was a different experience for me. I noticed that being a female programmer in IT companies can be challenging and tough at the beginning.
Last December 2020, I was invited to speak at Virtual Azure Community Day. One of the topics I spoke about was the Gender Inequality Problem in Tech. The idea of talking about it was the result of my deep reflections and personal experience of why we need to be more gender-equal, diverse and inclusive especially in the tech industry. In that talk, I presented the list of reasons of what I think we should do and what I am doing myself to address gender inequality issues. It was one of the first few public tech talks I did! I spoke from the bottom of my heart, and I am happy and grateful of the outcome.
MY CL/CD – CONTINUOUS LEARNING / CONTINUOUS DEVELOPMENT WITH MICROSOFT AZURE
Microsoft Azure, is my favourite cloud platform for both software and cloud development. I also used it in my personal – Continuous Learning and Development (CL/CD) journey.
I like learning and developing with cloud services and developer tools in Azure. I like keeping my technical and cloud skills updated using Microsoft Learn's learning paths and also by taking Microsoft Certifications. Recently cleared AZ-900 Azure Fundamentals and AZ-204 Azure Developer Associate. I aim to take the AZ-500 Azure Security Engineer later this year or early next year.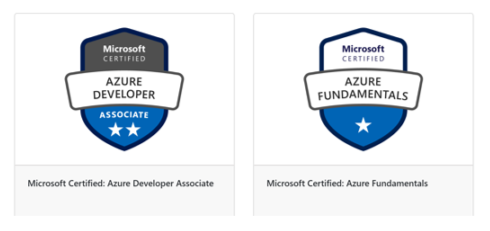 VOLUNTEERING IN TECH COMMUNITIES – INTERNATIONALLY AND IN THE PHILIPPINES
Volunteering in the tech and cloud communities comes naturally to me. I volunteer to help as much as I can and whenever I can, both locally here in Sweden (my workplace and local community), remotely and internationally. You will find me sharing technical knowledge about Microsoft Azure and software development through my website and public speaking engagements.
Aside from being a volunteer here at Ulap.org, you will also find me making a difference by mentoring locally Bron Innovation's Guidance, DataTjej, BitProject Serverless Camp, or just helping/mentoring others and friends who need it. In February 2021, I also started a new Azure community called Azure User Group Sundsvall Sweden in my city here in Sweden.
At work, I am part of an internal team that helps in achieving our goals with gender diversity and cloud upskilling programs in Microsoft Azure.
MICROSOFT MVP FOR AZURE AWARD
On 1st of June 2021, I'm glad and honoured to receive the Microsoft MVP Award for Microsoft Azure. I didn't know much about the Microsoft MVP award until someone from Microsoft nominated me because of my contributions to the tech communities. I did not have many expectations about the MVP nomination. To my surprise, this month – I received the Microsoft MVP Award! Also, the first female Azure MVP in Sweden!
For the past year, I have been actively sharing publicly my knowledge and passion for learning and developing Azure. In April 2021, I did 7 tech talks in a row in one month that I didn't know I could do that! I used to be shy and was scared of public speaking. Slowly and steadily, I became braver and finally volunteered and got invited to different public speaking engagements.
Thank you so much, Microsoft! I am grateful that the organization appreciated my technical leadership, passion and volunteering in the community. I am more inspired and motivated to make a difference!
Curious about what is in the Microsoft MVP Award box? I did an unboxing video when I received my MVP Award.
CONNECT AND MORE INVOLVEMENT IN THE COMMUNITY
I cannot wait to get more involved in ULAP.org initiatives and the upcoming ULAP.org Cloud Career Kickstarter Program starting this year. I'm supporting the mission and purpose of Ulap.org by being a community volunteer.
Let us connect by following me in Twitter and Linkedin, or visit my Website.